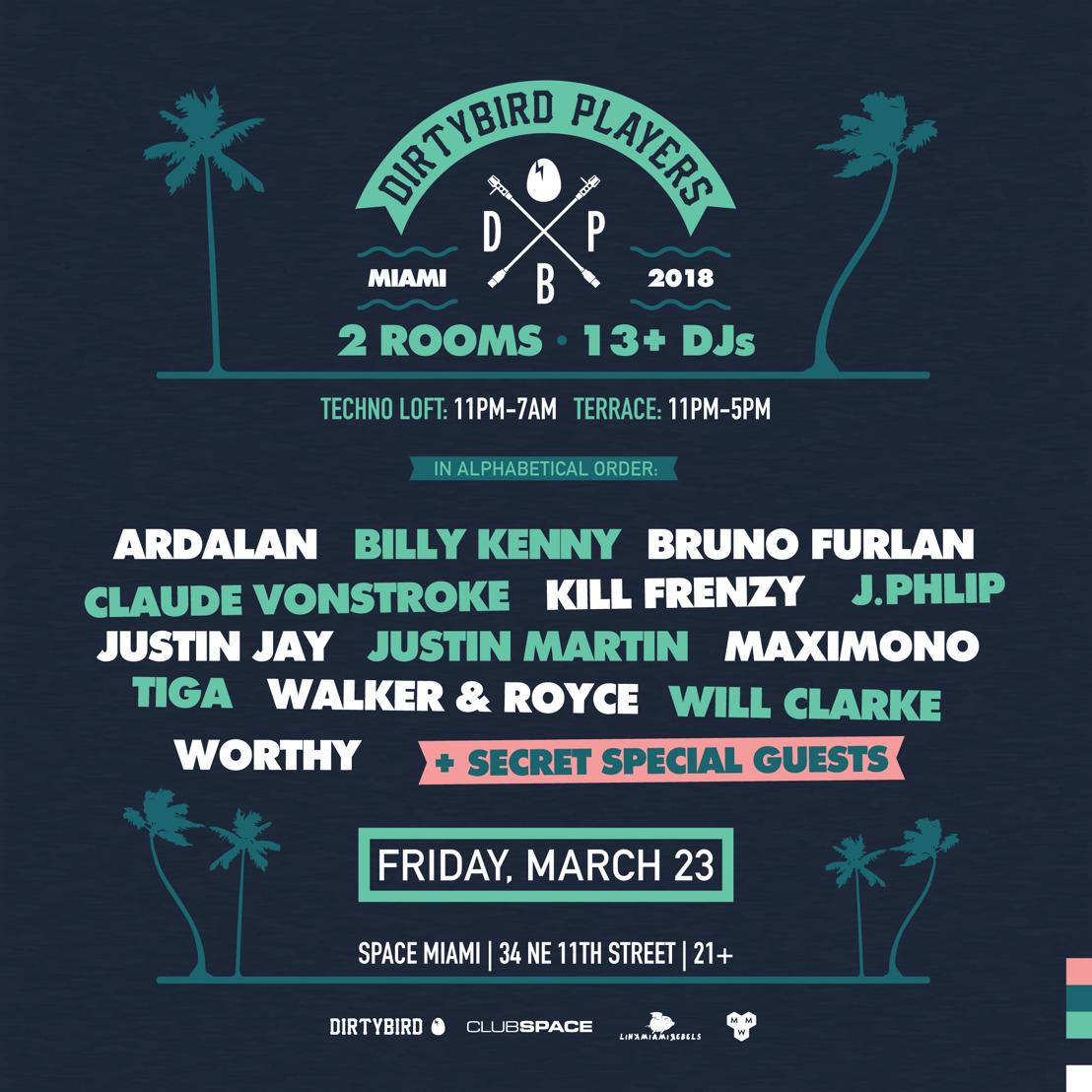 NEWS: DIRTYBIRD Players Takeover Club Space Miami w/ Claude VonStroke, Tiga, Justin Martin, Walker & Royce, et al.
Tuesday, February 13, 2018 — Miami Music Week Showcase on March 23
Claude VonStroke, Tiga, Justin Martin, Walker & Royce, J.Phlip, Will Clarke, Ardalan, Worthy, Bruno Furlan, Justin Jay, Kill Frenzy, Billy Kenny, and more
Plus Special Guests
Ticket Link: bit.do/Dirtybird-MMW
The Birds fly east once again for Miami this March for one of their biggest Music Week throwdowns yet. Claude VonStroke has assembled an outrageous cast of friends and family for the DIRTYBIRD Players takeover of the iconic Club Space where fans can expect two rooms of music packed with their favorite heavy hitters.
DIRTYBIRD rounded up some familiar familial brethren including goofball wunderkind Justin Martin, breakthrough duo Walker & Royce, first lady J.Phlip, the party starting legend Ardalan and beard maestro Will Clarke for the mainroom forray, plus a special set by Turbo boss Tiga and some other secret guests. In full takeover fashion they will also fire up the Techno Loft with talent including Worthy, Billy Kenny, Kill Frenzy, Bruno Furlan, Justin Jay and Maximono.
Join DIRTYBIRD for 15 hours of house music mayhem taking you through the crates of a label drenched in Miami Music Week history at one of clubland's most notorious venues.
Purchase Tickets here: bit.do/Dirtybird-MMW
RSVP here: facebook.com/events/2097371343818983/
Connect with Dirtybird
www.dirtybirdrecords.com
www.facebook.com/dirtybirdrecords
www.soundcloud.com/dirtybirdrecords
www.twitter.com/dirtybird_sf
Dirtybird Players Miami Lineup:
Ardalan
Billy Kelly
Bruno Furlan
Claude VonStroke
Kill Frenzy
J. Phlip
Justin Jay
Justin Martin
Maximono
Tiga
Walker & Royce
Will Clarke
Worthy
+ Secret Special Guests