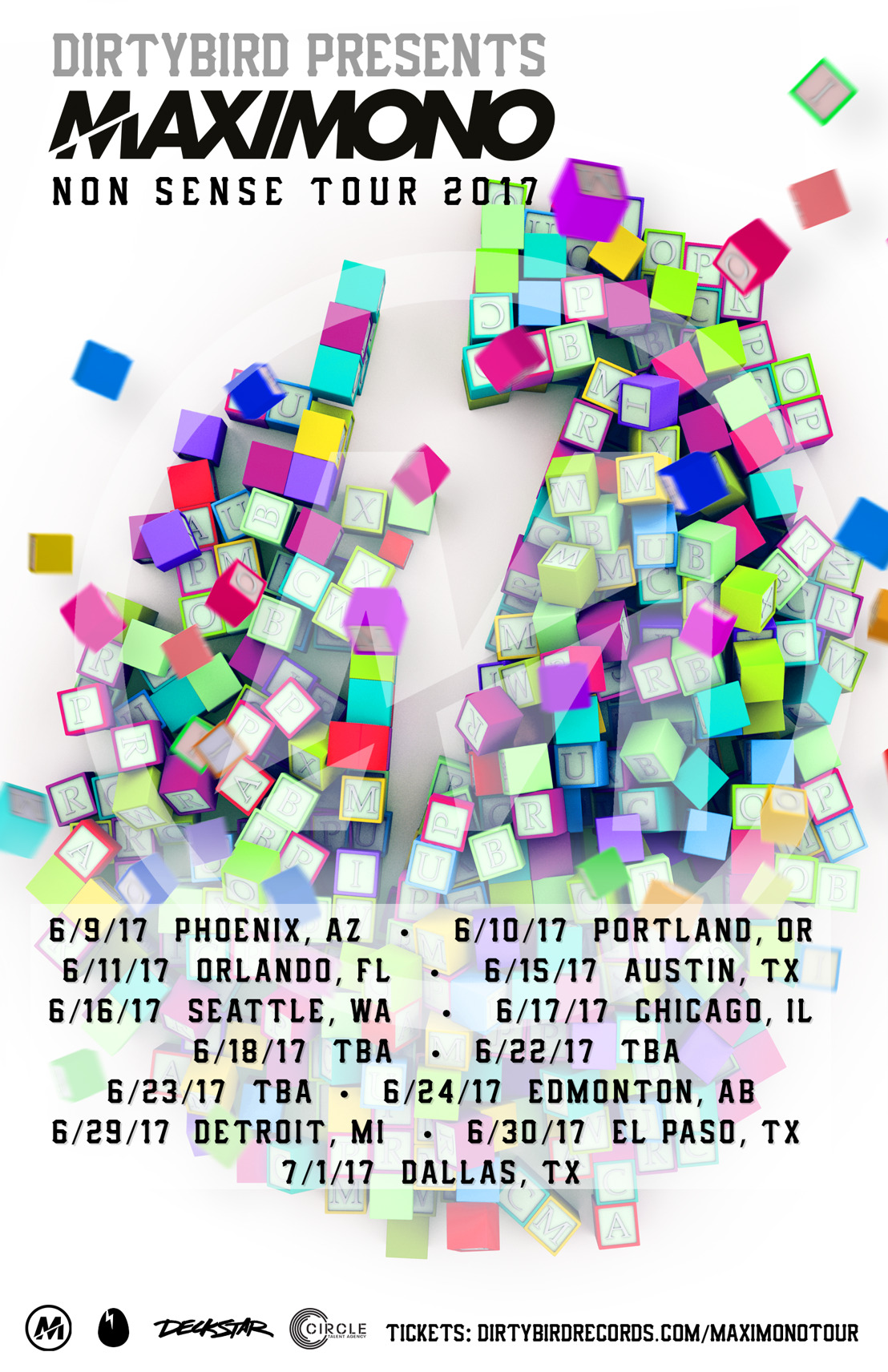 Maximono Embarks on Non Sense Tour Presented by DIRTYBIRD
Announces Non Sense EP Forthcoming on DIRTYBIRD Select May 12th
Thursday, April 27, 2017 —
DIRTYBIRD favorites Maximono today revealed plans to embark on an extensive tour this summer, touching down in select cities across North America. Kicking off June 9 and presented by DIRTYBIRD, the Non Sense tour will see Maximono skip through some of the nation's hottest parties with stops in Chicago, Seattle, Orlando, Phoenix, El Paso, Portland, Dallas, Austin, and more, with additional cities to be announced.
The Non Sense Tour celebrates the release of Maximono's eponymous DIRTYBIRD Select EP, due out on May 12. The two-track EP boasts the dizzying percussion and iconic dark hues the duo has honed from years of producing and performing drum & bass in Europe. The result is an omniscient, genre-agnostic perspective of dancefloor mastery, and a couple of damn fine dance tracks.
With utter Non Sense in mind and new tunes on deck, the Maximono boys are prepared to continue their charge into North America. This one's for the party people.
For All Press Inquiries Please Contact: mfrieser@infamouspr.com
DIRTYBIRD Presents Maximono Non Sense Tour Dates:
June 9: Phoenix, AZ - Bar Smith
June 10: Portland, OR - Whiskey Bar
June 11: Orlando, FL - Elixir
June 15: Austin, TX - Ethics
June 16: Seattle, WA - Kremwerk
June 17: Chicago, IL - Spybar
June 18 - TBA
June 22 - TBA
June 23 - TBA
June 24: Edmonton, AB - Mercer Tavern
June 29: Detroit, MI - Grasshopper Underground
June 30: El Paso, TX - Club Here I Love You
July 1: Dallas, TX - RBC
All info can be found at dirtybirdrecords.com/maximonotour