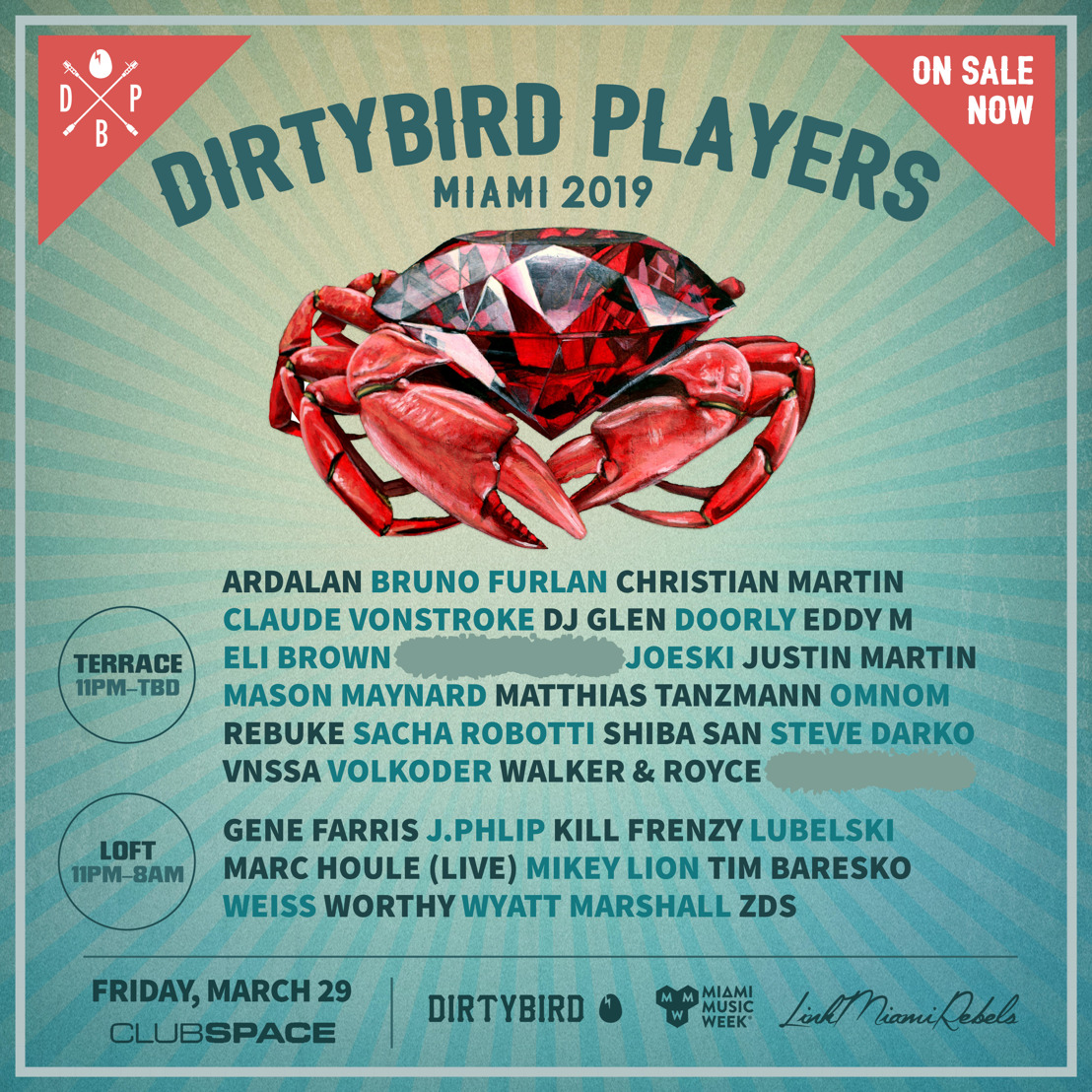 DIRTYBIRD Players Announced for Miami Takeover
Friday, February 15, 2019 — 30+ Friends & Family Members Fill Both Rooms of Space March 29
Featuring Claude VonStroke, Justin Martin, Rebūke, Marc Houle, Matthias Tanzmann, Shiba San + More
Unannounced Surprise Back-To-Back Pairings In Store
The great Eastward migration to Miami Music Week is underway once more for the DIRTYBIRD flock, who will be settling into their home of Club Space on March 29 for a 17-hour jaunt. A wide array of 30+ new and established label players will be joining under leader Claude VonStroke to craft a rambunctious and unforgettable night of swaggered house and techno beats.
Justin Martin, Matthias Tanzmann, Shiba San, Walker & Royce, Ardalan and Rebūke, are just a few of the 20+ iconic talents filling the Terrace alongside VonStroke—with special guests to be announced. Taking over the Loft is an equally legendary slate of talent, including Marc Houle and Gene Farris, and cameos from up-and-coming talents like Desert Hearts leader Mikey Lion, Lubelski, and Wyatt Marshall.
What better way to show off DIRTYBIRD's familial ties than a series of special back-to-back sets? They'll be revealed as the night unfolds.
Event page: https://www.facebook.com/events/270677533600519/
Connect with DIRTYBIRD:
www.dirtybirdrecords.com
www.facebook.com/dirtybirdrecords
www.soundcloud.com/dirtybirdrecords
www.twitter.com/dirtybird_sf