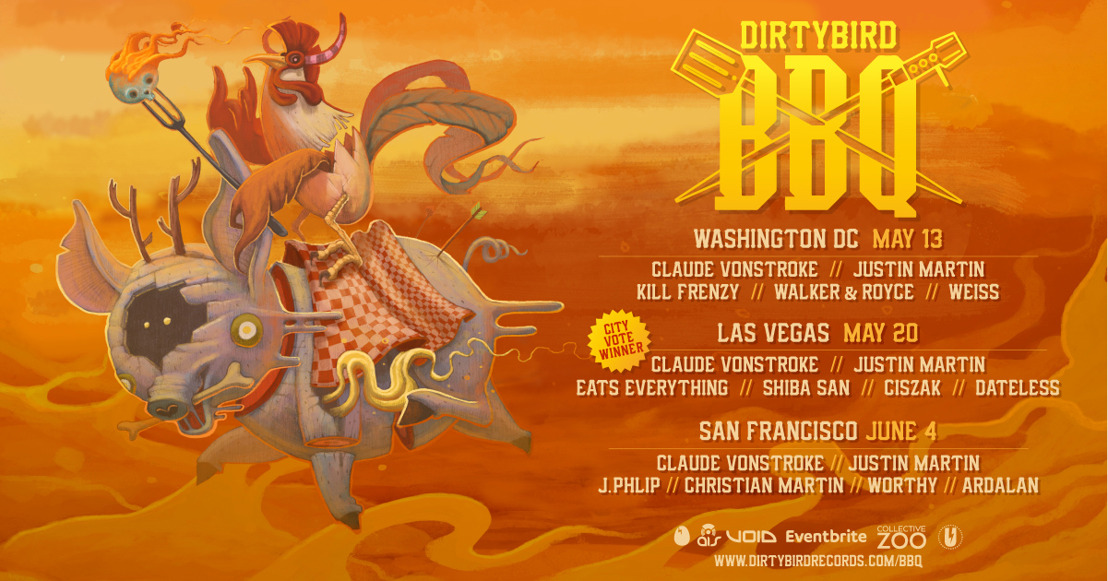 DIRTYBIRD Fires Up The Grill Again This Summer
DIRTYBIRD BBQs to Roast Coals and Warm Souls In Washington DC, Las Vegas and San Francisco This May & June
Tuesday, March 14, 2017 —
Grillmasters Include Claude VonStroke, Justin Martin, Eats Everything, Shiba San, Kill Frenzy, J.Phlip, Walker & Royce, Christian Martin, Weiss, Worthy, Ardalan, Grillson & More
Annual DIRTYBIRD BBQ Compilation To Be Released May 19th
The scent of a freshly mowed lawn, the crack of a cold beer opening, the distant thudding of beats and the smell of BBQ smoke - summer is almost here, which means dance music's most beloved crew of pitmasters are hitting the road for the annual DIRTYBIRD BBQ Tour.
It all began for DIRTYBIRD around a grill in San Francisco's Golden Gate Park more than 15 years ago, just a group of pals playing some damn good records, and cooking up some damn good BBQ. Not all that much has changed over a decade later, except a few more friends turning up.
This summer VonStroke has assembled the core DIRTYBIRD crew and a few newer faces to join him grillside for three outdoor dates of BBQ, booty bass, house and techno in May and June. The tour will be accompanied by the fourth installment in the DIRTYBIRD BBQ compilation series, featuring exclusive new music from Shiba San & Will Clarke, Kyle Watson, Sam Swindle, GAWP, Wood Holly and Seems Norv.
This summer the BIRDS will dock the BBQ at the epic DC Brau Brewery, eschew the Strip for the old-school charms of Downtown Las Vegas – who this year won the DIRTYBIRD BBQ City Vote – and of course bring it all home to roost at San Francisco's Treasure Island.
DIRTYBIRD BBQ Comp - Released May 19
DB 150 sees Eats Everything return to DIRTYBIRD for the first time in over two years. Eats Everything & Lord Leopard's 'Clash of The Tight-Uns' will be released March 24.
BBQ Flyers: http://bit.ly/2mpRlGq
BBQ Tickets:
DIRTYBIRD BBQ Tour Dates:
May 13:
Washington, DC (DC Brau Brewery, 3178-B Bladensburg Road NE)
Claude VonStroke / Justin Martin / Kill Frenzy / Walker & Royce / Weiss
May 20:
Las Vegas (Downtown LV Events Center, 200 South 3rd Street)
Claude VonStroke / Justin Martin / Eats Everything / Shiba San / Ciszak / Dateless
June 4:
San Francisco (Treasure Island)
Claude VonStroke / Justin Martin / J.Phlip / Christian Martin / Worthy / Ardalan
Connect:
dirtybirdrecords.com
dirtybirdrecords.com/store
facebook.com/dirtybirdrecords
twitter.com/dirtybird
instagram.com/dirtybirdrecords