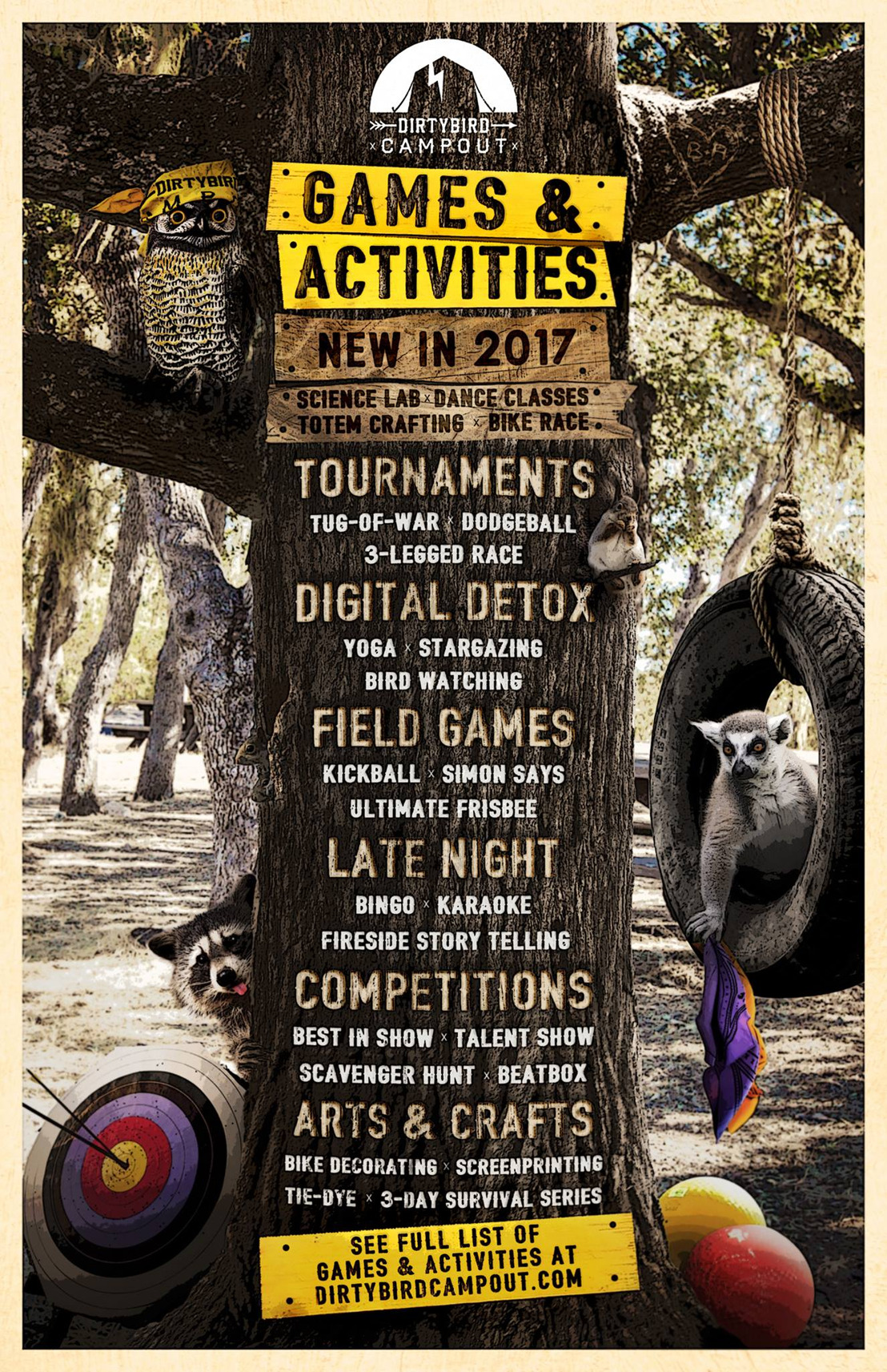 DIRTYBIRD Campout Reveals More Than 60 Games & Activities for 2017 Edition
Bring Your A-Game! Pick A Color! Go For The Iron Bird!
Thursday, August 10, 2017 — Over 20 New Additions Including Tour de Dance, Totem Crafting, Outdoor Science Lab, Star Hikes, Disc Golf, & Simon Says. Returning Faves include Archery, Stand-Up Comedy, Karaoke, Dodge Ball, Knot Tying, Tug O War and Much More!
Early Arrival Passes Available for 2017!
It's that time of year again, there's an itch stirring inside, maybe it's cabin fever. You have the urge to stretch your legs, feel the sun on your back, shake yourself out of the office and into the field. It's DIRTYBIRD Campout time!
Like a nostalgia filled Olympiad, soundtracked by recently crowned "label of the decade," DIRTYBIRD pairs all your fave childhood camp games and activities with musical performances from the best and brightest in underground house, techno, hip-hop and drum n bass.
In 2017 with a move to a new location DIRTYBIRD has doubled down, expanding its games and activities offering with more than 60 new ways to recreate those magical Campout memories.
Upon arrival attendees will be encouraged to sign up for one of four colored teams, and will have the chance to participate and compete in over 60 games racking up crushing victories in a bid to secure the annual Ironbird Trophy. There's something for everyone - jocks can attempt to relive glory days at Tug O War, 3 Legged Races, Dodgeball or the newly installed Tour de Dance cycle race, the art minded can show their skills in the Talent Contest, Karaoke, Stand-Up Comedy, Dance and Movement classes, or Wood & Totem Carving Workshops, and the bookworms can lay down some knowledge in the Science LaB.
For the less competitive out there Campout also will be serving up Moonlight Star and Nature Hikes, Magic Shows, Screen Printing classes, Late Night Movies, S'more Sessions, Storytelling and of course Justin Martin's Raucous Pizza Party.
In addition to this wild run of Games and Activities, Campout has announced the addition of Early Arrival Passes this year allowing Campers to enter on Thursday, October 5th to snag prime camping and get acclimated for the non-stop weekend. That way you will be fresh and ready on Friday to hit the dance floor or Games Field!
There is more here than can possibly be undertaken in a given weekend, and we've not even mentioned the music, yet somehow Claude VonStroke manages to participate in everything! Truly a man of many talents. But he is far from the sole DIRTYBIRD out in the mix, and one of Campout's most special qualities is when you face off on the field, or find yourself in a victorious hug, with your favorite DIRTYBIRD artists.

For a Full List of Games and Activities Please Visit:
http://dirtybirdcampout.com/games-activities-lineup-2017/
For Tickets and More Info:
http://dirtybirdcampout.com/
Connect With DIRTYBIRD:
www.dirtybird.com
www.dirtybird.com/store
www.birdfeed.dirtybird.com
www.dirtybird.merchtable.com  
www.facebook.com/dirtybirdrecords
www.twitter.com/dirtybird
For Press Inquiries Please Contact:
mfrieser@infamouspr.com