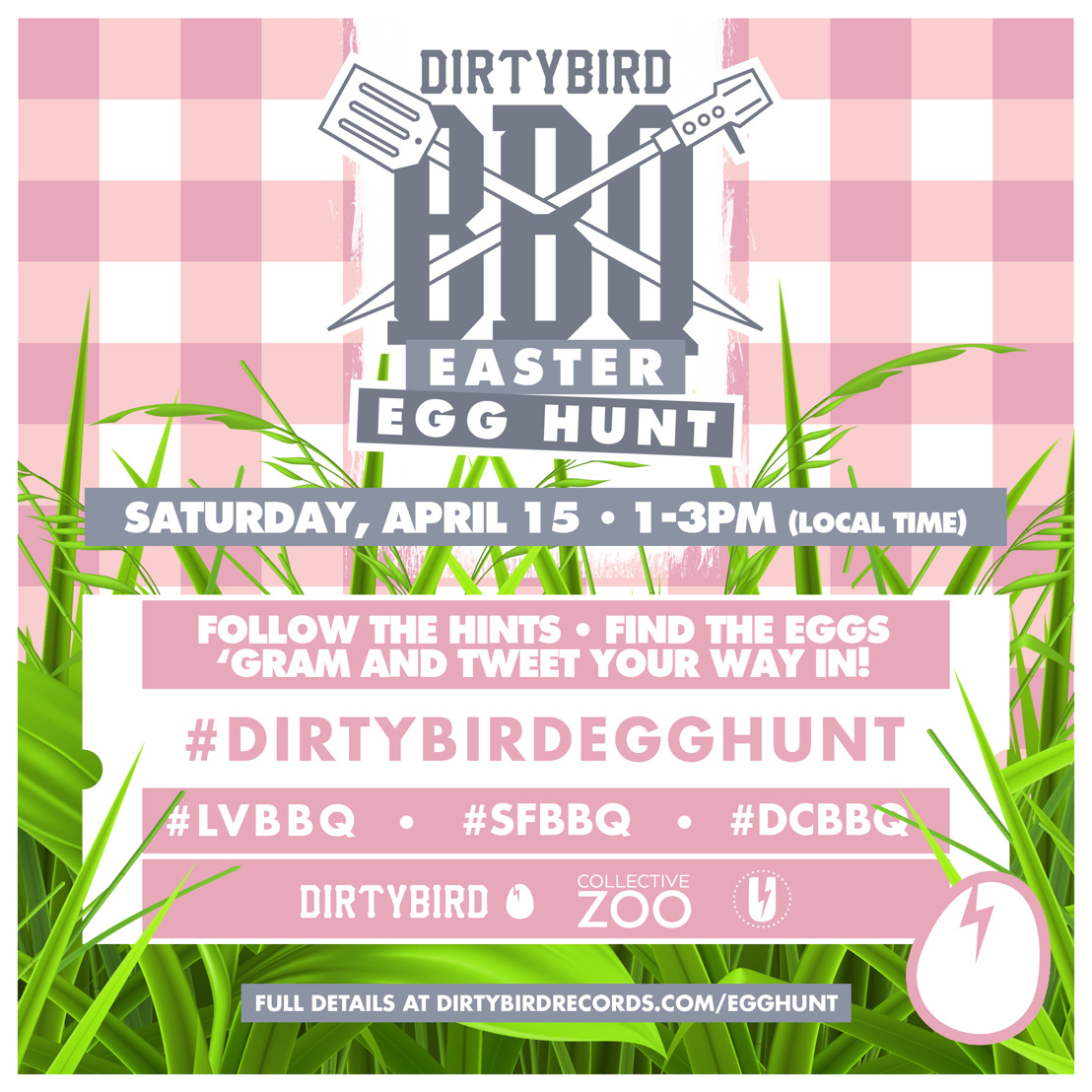 Dirtybird Announces Dirtybird Easter Egg Hunts in Washington DC, San Francisco & Las Vegas
Follow the Hints, Find the Eggs & Win Tickets to Dirtybird BBQ and BBQ Feasts!
Friday, April 7, 2017 — We're putting three Dirtybird Easter Egg stickers at landmarks in each of our BBQ cities, and giving you hints to lead you there. The first 25 fans in each city to find an Easter Egg – and post a selfie with it on social media – will score BBQ tickets. If you aren't among the winning flock, you'll still get a prize, and you can still hunt for the ultimate reward: the Campout Golden Egg.
There will be three Dirtybird Easter Egg stickers at landmarks in each of our BBQ cities. (You won't be able to miss 'em.) At 11am local time on Saturday, April 15, we'll release hints to lead you to each city's Eggs and, at 1pm local time, let the hunt begin!

To participate, use the hints to find one of the Eggs. Post a selfie including the Egg on either Instagram or Twitter. Make sure to tag Dirtybird and to use #DirtybirdEggHunt and your city's hashtag – the first 25 fans who find and post selfies with any of the three eggs will win tickets! We'll notify winners via reply or comment, and let everyone know when those first 25 fans find the tickets in each city.

If you're no early bird, don't worry! Fans who participate in the Egg hunt but post their Egg photos after the 25 winners will be rewarded, too: you'll receive a free three-month Birdfeed subscription and exclusive merch discount code.

That's not all… each city also has a real Golden Egg hidden at one of the landmarks. Even if you already have a BBQ ticket, you'll want in on this grown-up Easter Egg Hunt! The lucky Bird who finds the Golden Egg will win a ticket to Dirtybird Campout, two BBQ tickets and BBQ feasts, a BBQ t-shirt and a copy of our annual BBQ compilation. Instructions on how to redeem your prize will be inside the egg, and make sure to post your victory on social media too!