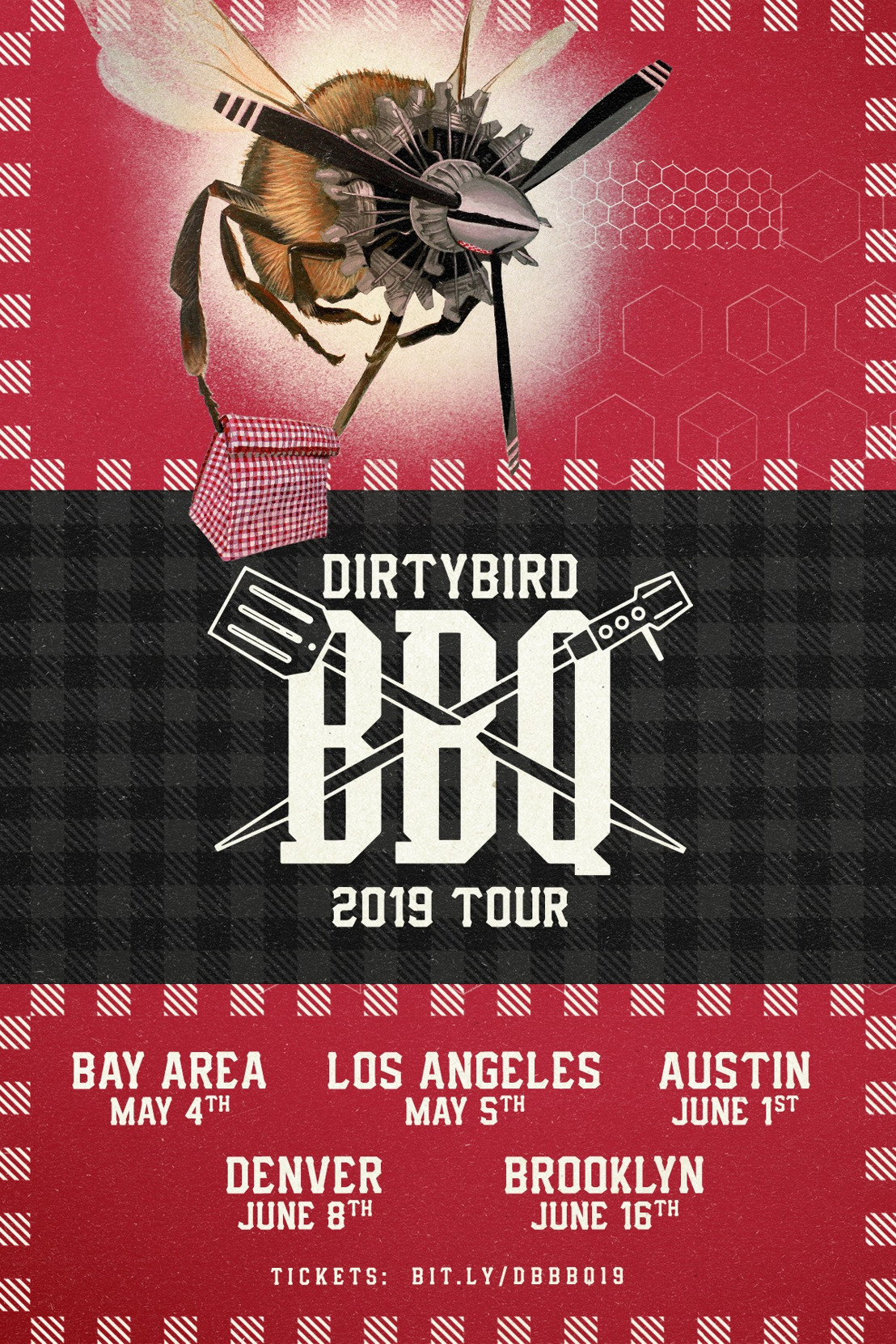 DIRTYBIRD Announces 2019 BBQ Tour Lineups
Monday, March 18, 2019 — Justin Martin, Walker & Royce, J.Phlip, Will Clarke, Christian Martin, Sacha Robotti, Ardalan, ZDS, VNSSA & More Join Claude VonStroke Across Five-City BBQ Tour
Touching Down in Los Angeles, San Francisco Bay Area, Brooklyn, Austin, and 2019 City Vote Winner Denver
Win Two Flights to the Brooklyn BBQ and Meet Will Clarke:

Tickets/Info Here: bit.ly/DBBBQ19
Steaks have been marinated, beers have been chilled, and coals have been fired up. The only ingredient missing from the perfect DIRTYBIRD BBQ spread is its lineup—and now, it's been delivered. Claude VonStroke has gathered a wide array of label friends new and old to join him on the 2019 run including Justin Martin, Walker & Royce, Will Clarke, J.Phlip, Ardalan, ZDS, Christian Martin and more.

The DIRTYBIRD BBQ has grown exponentially since its humble beginnings in San Francisco's Golden Gate park, attracting multitudes of boisterous beat enthusiasts into the fold over the years to become one of America's favorite outdoor parties. To this day, plates piled high with fresh grilled cuisine are served alongside artisan soundtracking from an array of DIRTYBIRD's notoriously welcoming studio chefs. Combined with summer sun and warm temperatures, fans are guaranteed a grill session that will remain in their memories for life.
Serving up sizzling beats this time around is the aforementioned Justin Martin, who will be joining in on the LA, Bay Area, and Brooklyn sessions. Christian Martin is attending alongside his brother in the Bay, while making additional stops at Denver and Austin. BBQ veteran J.Phlip is also making her return to the series, landing in the Bay Area and Brooklyn. A wide variety of other guests, like Justin Jay, Walker & Royce, Ardalan, ZDS, Sacha Robotti, Steve Darko, and more will be sprinkled throughout the five-city tour.
Finally, Will Clarke has particularly special plans in store for his stint at the Brooklyn BBQ. Followers can enter to win two flights to New York for themselves and a friend to join in on the festivities and enjoy some one-on-one time with Will. The winners will also receive special edition BBQ hoodies and signed vinyls of his latest DIRTYBIRD single "Feeling Good" with BOT in addition to their flights. The runner-up will also score a signed vinyl and a pair of tickets to any BBQ of their choice. Follow this link to join the contest.

The DIRTYBIRD BBQ stretches beyond mere culinary and musical offerings. This year the Sizzle Stage will make its debut with a bounty of extracurriculars that are as enticing as the music. Newly curated Dirtybird Campout-inspired activities like the Balloon Pop field game, a "Roast The Bird" comedy session, "The Great Bingo Revival," and the return of the Best In Show competition will add an extra layer of fun to the proceedings, giving you a taste of Dirtybird Campout, Oct 4-6, 2019. Topping off the Sizzle Stage lineup will be a special culinary segment, pairing DIRTYBIRD artists with local or celebrity chefs for food-focused performances and demos sure to delight DIRTYBIRD fans who dabble in gastronomy.
Full 2019 BBQ Tour Lineups:
Bay Area (May 4 - Alameda County Fairgrounds):
Claude VonStroke, Justin Martin, J.Phlip, Christian Martin, Worthy, Ardalan
LA (May 5 - LA Exposition Park):
Claude VonStroke, Justin Martin, Sacha Robotti, Justin Jay, Wyatt Marshall vs Lubelski, + SPECIAL GUEST
Austin (June 1 - Carson Creek Ranch):
Claude VonStroke, Walker & Royce, Christian Martin, Ardalan, Steve Darko b2b VNSSA + SPECIAL GUEST
Denver (June 8 - Fillmore Outdoors) - City Vote Winner*
Claude VonStroke, Christian Martin, J.Phlip, ZDS, VNSSA, + SPECIAL GUEST
Brooklyn (June 16 - Brooklyn Mirage):
Claude VonStroke, Justin Martin, Gene Farris, Will Clarke, J.Phlip, Joeski, Steve Darko b2b Codes

Connect with DIRTYBIRD:
dirtybirdrecords.com
dirtybirdstore.com
facebook.com/dirtybirdrecords
twitter.com/dirtybird
instagram.com/dirtybirdrecords